Inflammation, Heart Disease and Healing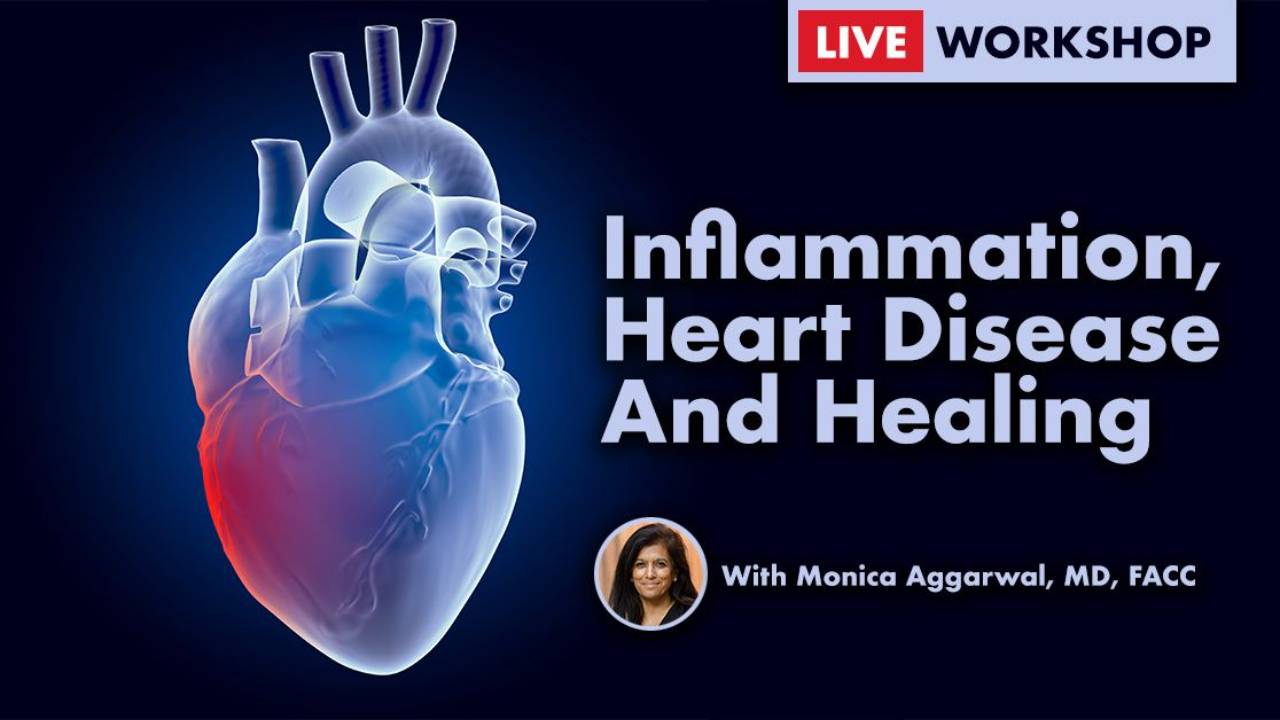 Watch the workshop now on our YouTube Channel.
To gain access to more workshops like this, join the free Full Plate Living program now.
---
The statistics on heart disease might be grim (it's the leading cause of death globally, and nearly half American adults are diagnosed with cardiovascular disease), but cardiovascular professor, researcher and doctor Monica Aggarwal has some good news – lifestyle changes can heal the heart.
In this workshop, Dr. Aggarwal gets to the roots of heart disease – how it starts, what risk factors are involved, the role inflammation plays, and addresses everyone's burning question, "Just why are people getting so darn sick?"
Do your genes have to be your destiny? Borrowing from personal experience, medical research and practice, Dr. Aggarwal shares the steps you can take to heal your heart and the lifestyle changes that will help you get there.
---
Monica Aggarwal, MD, FACC
www.drmonicaaggarwal.com
Monica Aggarwal, MD, is an adjunct Associate Professor in the University of Florida's Division of Cardiovascular Medicine where she conducts research on the impact of nutrition in chronic illness. She also serves as the Chief Medical officer of the not-for profit, 4Roots Farm which is looking at how to improve food quality to improve human health. She received her medical degree from Virginia Commonwealth University School of Medicine and subsequently went on to complete a residency in internal medicine at Tufts University Hospital in Boston, MA. She then completed a cardiology fellowship at the University of Maryland in Baltimore, MD.
Dr. Aggarwal's own path to understanding the impact of nutrition in illness started soon after the birth of her third child, when she developed an advanced form of rheumatoid arthritis. She was placed on medications that gave her severe side effects. It was only through learning about the microbiome (gut), its impact on the immune system and the role of nutrition in affecting the gut, was she able to truly heal. Determined to change the face of medicine, Monica left private practice and returned to academics in order to pursue research on the role of diet and to create an integrative cardiology practice focused on nutrition and lifestyle.
Dr. Aggarwal served as the Director of Integrative Cardiology and Prevention at the University of Florida for 5 years during which time she was promoted to Associate Professor of Medicine. At University of Florida, she focused on promoting food as the foundation of healing and for its medicinal value. In her clinic, she emphasizes plant-based nutrition and often performs multiple mind-body techniques with her patients, including yoga and meditation. At University of Florida, she was also the Director of Medical Education for Cardiology, where she directed education for medical residents and cardiology fellows, with a focus on prevention, nutrition, and lifestyle. In the hospital, she has multiple initiatives including developing a 100% plant-based menu for cardiac and vascular patients.
Dr. Aggarwal gives talks around the community, country and internationally. She was named a "Next Generation Innovator" by Cardiology Today. She is often featured in Veg News, Naked Magazine and forksoverknives.com. She conducts research on nutrition education in medical institutions and on how a plant-based diet impacts cardiovascular disease. She has published in major medical journals such as Journal of American College of Cardiology and American Journal of Medicine.
Board certified in cardiology and three specialties of cardiology: echocardiography, nuclear cardiology and advanced lipid management, she is a fellow of the American College of Cardiology (ACC), where she is a member of the nutrition council working on nutrition policies for the nation. Dr. Aggarwal specializes in preventive management of heart disease with lifestyle techniques in conjunction with medications. She is the author of the book "Body on Fire: How Inflammation Triggers Chronic Illness and the Tools We Have to Fight It," which outlines prescriptions to help guide people to better health and the recently released Body on Fire Cookbook which provides whole food, healthy recipes to help implement change.
She has instituted a new plant-based menu at the University of Florida/Shands Hospital which is receiving national attention along with new discharge education that empowers patients to heal their bodies with their lifestyles. She was recently named Florida's Cardiovascular Researcher of the year which provided her with a grant to conduct the important research needed on nutrition in 2019 and Exemplary Teacher of the Year in 2020.
She currently conducts research at University of Florida and sees patients in Orlando, Florida at AdventHealth and via telemedicine as part of Wholistic Cardiology and details can be found on her website.
Full Plate Living is a small-step approach with big health outcomes. It's provided as a free service of Ardmore Institute of Health.
Learn More